On-Track Coaching
On-Track Coaching in a high-performance environment is currently our main focus. We make sure to assign every student his or her own instructor in order to combine maximum seat time and learning potential with surprising affordability! Each day begins with a thorough interview to ascertain your track event history and level of experience and to familiarize us with your goals and your vehicle's capabilities. This determines how the day proceeds. Drivers with significant HPDE experience will jump right in with on-track coaching while those new to track driving will typically need some preliminary classroom time. But don't worry – everyone gets plenty of track time by the end of the day! Finally, each driving session is followed by a detailed debriefing outlining specific techniques and objectives to work on for the next session.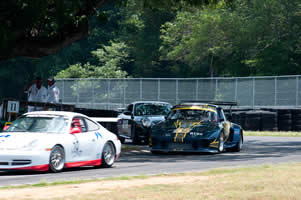 What You Will Need
A mech­anically sound car of your choice with a full fuel tank, adequate brakes and tire tread
A Snell-rated helmet; driving gloves and shoes are recommended
A desire to increase your driving performance, lower your lap times or refine your awareness and skills
What You Can Expect
Improvement
Control
Smoothness
Confidence
and most of all, Fun!!!
You will come away having learned valuable skills to use both on the racetrack and on the street in your every day driving environment. And – we guarantee your satisfaction with your HP Driving experience!
On-Track Coaching Rates
The rates quoted below are for having your instructor coach you from the passenger's seat only; depending on the venue, there may be an additional charge to allow he or she to demonstrate techniques by driving your car, but this is entirely up to you. For further information about why you might want to do this, see the orange FAQ box below.
Conditions permitting, Half Days typically consist of 3-4 sessions of 20-30 minutes, Full Days are typically 6-8 sessions and Winter Days, which run 10AM-4PM, are typically 4-6 sessions; however, please understand that the number and length of in-car sessions is not guaranteed, as the event organizer's schedule will determine the available track time for each run group!
Note: Track fees are charged directly by the racetrack or event organizer and are in addition to those listed below!
(currently, High Plains Raceway charges $180/$120/$120 for Full/Half/Winter Lapping Days paid in advance)
On-Track Coaching - Exclusive Hire
Half Day
Full Day
Winter
$350
$600
$475
Note: Returning customers receive a 10% discount!
On-Track Coaching FAQ
How much time will be spent driving on the track?
Driving sessions will usually be split into 2 "run groups", a faster and a slower group, depending on the number of drivers. The run groups will alternate in 30 minute track sessions – this is a lot of time to be engaged in the kind of mental focus required for this type of high performance driving! Once your session ends and the other group is out on the track it's important to spend this time "decompressing&quot – resting, re-hydrating and re-focusing – before going out again. While doing so, we will spend much of this time discussing concepts and areas for improvement in more of an in-depth "classroom" style of analysis which is quite beneficial in tying everything together for you as a student.


Can an instructor be shared among friends and/or family?
Absolutely! As long as all the participants know each other well and comprise a relatively small group, this type of shared instruction is a great way for each sudent to maximize learning potential at an extremely affordable rate. In this scenario, all of your in-car coaching will still be done on a one-on-one basis. This "sharing" is accomplished by setting expectations at the beginning of the day about how your instructor will alternate in-car sessions between each student throughout the day. Note that we no longer offer shared instruction between strangers, as we found that this reduced the overall effectiveness of the instruction.


How important is it to have the instructor drive my car on occasion?
We believe this is a valuable tool for you to take advantage of, as it allows the student to visualize both the precise driving line and the intended result of the driving techniques the instructor has been trying to teach. However this is always entirely up to you! Should you choose to allow this, rest assured that the instructor will never drive your car "at the limit" – he or she would typically drive a few laps in the morning to demonstrate the driving line, and perhaps several more once or twice in the afternoon to more fully highlight a certain technique or specific corner for you to work on. In any case, you will still be doing the vast majority of the driving throughout the day. Note: Depending on the venue, there may be an extra cost to allow this – e.g., High Plains Raceway requires all drivers to pay the appropriate registration fee on Lapping Days, students and instructors alike.
---
On-Track Video of High Plains Raceway Dedication
Check out this video filmed by 9 News reporter Heidi McGuire from inside Bruce McPherson's NSX while Governor Ritter rides up ahead at the dedication of High Plains Raceway in 2009!
2 Laps at Daytona
PCA 1.5 Hour Enduro, Sunday, Oct. 26, 2014
2004 GTC3 Class 996 Cup car #303
3 Laps at Road America
PCA 1.5 Hour Enduro, Monday, Sep. 5, 2016
2004 GTC3 Class 996 Cup car #303
Call 720.580.1860 for High Performance Driving!